Club meetings are held the third Monday of each month (except August and December), at 7:00 pm, at Pioneer Pavilion Community Center, 2007 Cherry St, Ferndale, WA (see image below). Our August meeting is a picnic and the December meeting is our Christmas party. Locations for those events will be announced.  The business part of the meeting starts with reports from the various committees and discussion of new business. Some meetings feature an invited speaker or other program. A popular feature of our meetings is our show and tell time. Each month a different theme is selected to feature at the next meeting. Examples are: agates, fossils, purple rocks, locally collected material, etc. Any club member may bring in specimens to share with the group. This inspires a lively sharing of information as rocks are displayed.  We have a large display screen available at our meeting place in Ferndale:
During break time members enjoy refreshments while 1) checking out books from our library, 2) bidding on silent auction items, 3) having a look at the show and tell table, 4) chatting with other members . Our members enjoy:
Making new friends who share rockhounding and lapidary interests
Attending field trips
A private Facebook group titled "Mt. Baker Rock & Gem Club"
Our summer picnic and Christmas party
Participating in our spring show and summer Rockhound Rendezvous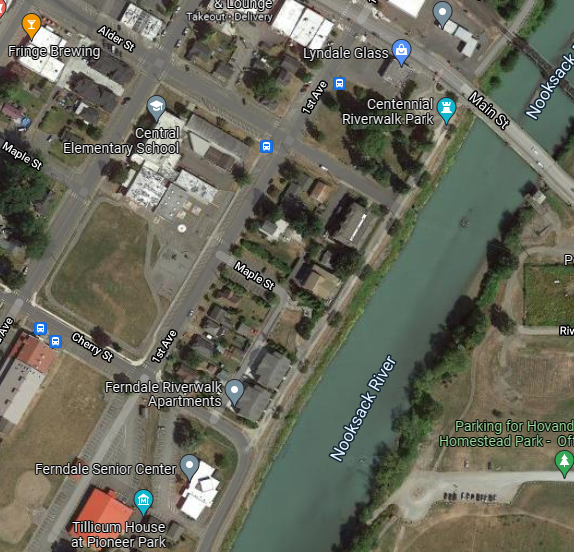 Annual Membership Dues are $20.00 per household, payable in October to the treasurer. Canadians purchasing a membership should make the payment in US funds. Download a membership form using the button. Print it and mail it, or bring it to the next meeting.
Members should help ensure that they receive the club's emails. These come out at least once a month with meeting minutes and other news. Check your spam folder and, if found, mark club email as "not spam". Add the club's email address, admin@mtbakerrockclub.org, to your address book.
Members with Facebook accounts should join our Facebook group. Search within Facebook for the group named "Mt. Baker Rock & Gem Club", then click the "Join" button. After another group member has approved you, all posts will be visible and you can make posts. Please join in.